Enjoy life by the sea
In the 2 villas, "Hera" and "Hestia", just 50 meters from the coast line, our guests will find spacious family apartments, comfortable studios and guest rooms.  Some of the facilities offered for a relaxing stay are:
Elegant Furnishing
Individual Air Conditioning
Big windows with amble day light bringing the natural environment into your interior space
Spacious furnished balconies
Daily maid service
Free parking (on site)

Operational information:
Reception operating hours: 08:00-22:00
Check in anytime between14:00 and 22:00
Check out anytime from 08:00 till 12:00
Tavern / Kitchen is operating from 12:00 till 22:30 daily
Greek breakfast served in buffet 07:45 – 11:15
Early breakfast service is available upon request)
Breakfast may be served in your room upon request
Room Service 09:00-21:00
Lunch box upon request
Baby Cot available in your room upon request
Free wifi available in rooms and common areas
Washing machine and ironing equipment on site
Dry cleaning, cleaning and ironing service upon request
Wake up call upon request
Sun beds and parasols available on the beach

You may also enjoy:
Cooking meetings
Yoga sessions
Bicycle rental
Activities by "SKG Watersports":
Windsurf courses
Kitesurf courses
SUP in Thessaloniki
Sea Kayak Tour
Rental of Sea Kayak
Rental of SUP
Rental of Windsurf
Rental of Pedal Boats
Dates of operation: 
Hotel rooms, Apartments and camping grounds are operating from the beginning of April till end of October. All bars are operating from the beginning of May till the end of September. The Tavern is operating on a daily basis from the beginning of April till the end of October.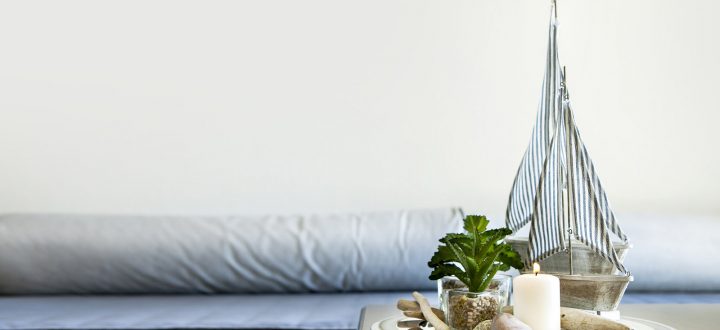 Room size: 35 sq. meters
Beds: 1 Double & 2 single beds
Main Feature: 2 Spaces
(bedroom, living room with kitchenette)
Occupancy: up to 4 persons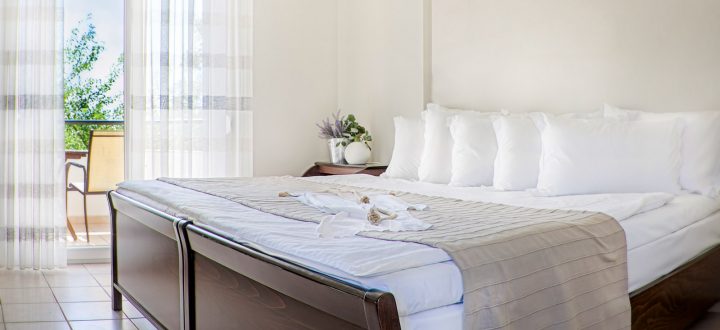 Room size: 20 sq. meters
Beds: 1 king size & 1 single sofa bed
Main Feature: Bedding to upgrade your sleep,
Kitchenette
Occupancy: up to 3 persons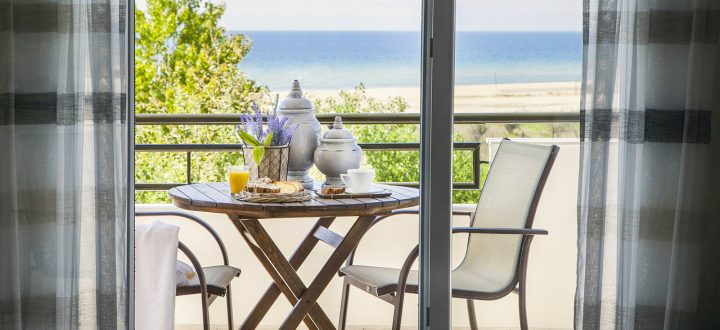 Room size: 20 sq. meters
Beds: 1 double bed
Main Feature: Furnished balcony
with sea view
Occupancy: 2 persons
Ready to stay in the Hotel?
Book now
Ani Rozie - June 2015
We enjoyed the friendly and relaxing atmosphere
Suzanne Pleignet – Camping – May 2014
We enjoyed the birds and the hospitality of the staff.
Melinda McKay - Hotel – Summer 2013
What an amazing find! We just stayed three nights in a one-bedroom apartment and it was fantastic. Beautiful clean grassy gardens, a great play area for the kids, yummy taverna for us and just steps to a beautiful uncrowded beach. Amazing that it is so close to Thessaloniki. Our one-year old girl had such a great time playing and running around and it was so safe. If you have small kids, get a ground level apartment so you can sit on the patio and they can run around in the big gardens in front and you can sit back and relax on your patio. The apartment itself was a good size, modern and well equipped. The staff are just amazing; so very friendly and helpful, you definitely feel the family warmth! We will be going back often for sure.